Announced date: Thursday, April 17, 2008
Writer : RedRyder - YNK Staff
---
We are pleased to announce our collaboration with PayByCash's Ultimate Game Card™ as a new payment method for you to use in our games, which include Rohan: Blood Feud (http://www.playrohan.com) and Seal Online (http://www.sealonline.com).
Though our games are free to play, The Ultimate Game Card (http://www.ultimategamecard.com) can be used when purchasing in-game premium items in the cash shop / item mall. It is a safe alternative if you don't want to pay for items with a credit card online, or if you don't have a credit card, and can be used when making purchases from within both Rohan: Blood Feud and Seal Online. The cards are easily redeemable online and are available for purchase at a variety of major retailers across the United States. They will also be available in Canada early this summer.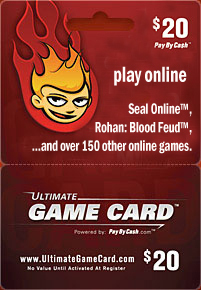 We are currently in discussion with other card providers as well as SMS providers across several different countries, and will have more news for you soon, as agreements are finalized.