Back to Quest - Solo - Dark Elf Page
Quest Description
Collect three flames of Flox from "Trapped Box of Fire" located in Dharvegawan.
Location
See the map!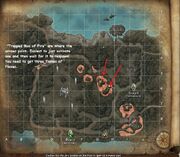 Requirements
You need to go and activate the boxes, and get 3 Flames of flox from them. Mind you don't get killed on the way! Return to Emilita Lyonan, then talk to Wieren Armant to finish the quest.
Reward
Move on to the next stage of the quest (oh joy and happiness!)
Miscellaneous Information
Edit
Screenshots
Videos
Insert video information here.
Ad blocker interference detected!
Wikia is a free-to-use site that makes money from advertising. We have a modified experience for viewers using ad blockers

Wikia is not accessible if you've made further modifications. Remove the custom ad blocker rule(s) and the page will load as expected.