Monsters Levels 1 - 10
Edit
Varg : Physic attack . Level 1~2

Akepion : Physic attack . Level 1~2

Imp : Physic attack . Level 1~2

Greymane Varg : Physic attack . Level 2~4

Imp Conscript : Physic attack . Level 2~4
Frenzied Akepion: Physic attack . Level 3~4
Redmane Varg: Physic attack . Level 3~5
Blackmane Varg : Physic attack . Level 4~6

Imp Sheik : Magic attack . Level 5~6
Rending Akepion : Physic attack . Level 5~6
Slavering Varg : Physic attack . Level 6~7
Dreaded Akepion : Physic attack . Level 7~8
Fungalbloom : Physic attack . Level 7~9

Lycan : Physic attack . Level 7~9

Pixie : Physic attack . Level 6~8
Rigal : Physic attack . Level 8~9
Varg Patriarch : Physic attack . Level 8~9
Mezard Chaos Elf : Physic attack . Level 9~10
Lycan Gladiator : Physic attack . Level 9~11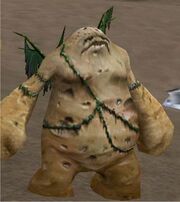 Sandeep : Physic attack . Level 9~11
Location: Armenes/RevDecca Map (Dekan/Dhan) They are located along the southwestern coastline (west of the Township Battlefield Gate), near a very large pile of bones.
Rigal Spelunker : Physic attack . Level 10~12
Pixie Magus : Magic attack . Level 10~12
Waste Pillager : Range attack . Level 10~12
Ad blocker interference detected!
Wikia is a free-to-use site that makes money from advertising. We have a modified experience for viewers using ad blockers

Wikia is not accessible if you've made further modifications. Remove the custom ad blocker rule(s) and the page will load as expected.