Back to Quest - Solo - Dark Elf Page
Quest Description
1. Talk to Andelique near Temple of Flox
2. Collect Red Blazing Lizards Eyes
3. Acquisition of the Staff of Volcano
Location
Start at the Temple of Flox. Then move on to Vortex Shore.
Requirements
1. Talk to Andelique near Temple of Flox
2. Collect Red Blazing Lizards Eyes from Red Blazing Lizards, located at I5 of Eibach. When you get to these mobs, DO NOT kill the Ancient Priest of Flox unless you have the quest for the Staff of Volcano! That guy takes a while to respawn!
3. Acquisition of the Staff of Volcano from the Soul of Ancient Priest of Flox, located at I5 of Eibach (see the Screenshots section). Unfortunately, he might not necessarily drop it all the time. He isn't that hard to defeat, but you should take some pots with you as precaution, especially as there are many Infused Gargoyles around that will attack on sight.
Reward
You get to become a wizard!
Miscellaneous Information
Edit
Screenshots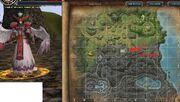 Videos
|}